International standards have been around for many years.  Some small businesses find them invaluable, enabling sales and providing a point of differentiation; ISO 9001 (the quality standard) and ISO 13485 (the medical device standard) being two examples.
You don't need to become registered to a standard to adopt the principles, though.  I was enjoying a cup of tea with David Ashworth of Flintloque at Sci-Tech Daresbury just before Christmas and he mentioned ISO 11000, the business collaboration standard.  The standard was originally developed to help businesses deliver big contracts to big corporations like the NHS and Network Rail.
I know I talk a lot about establishing relationships with your customers.  Lifetime business depends on treating your customer like a friend not an enemy.  Collaboration reaps benefits for both seller and buyer.
David and his colleague Adrian Quayle, adapted ISO 11000 for SMEs and developed the "Five Pillars of Collaboration" TM. The concept has such a brilliant marketing interpretation.
The first pillar "Collaboration Strategy" is all about goal setting and understanding the ambitions for your business.  The second pillar "Assess and Select" is about choosing your potential partners.  The third pillar "Develop the Relationship" considers how your collaboration will provide added value to your organisation and your customers.  The fourth pillar "Deliver the Promise" is doing what you say you're going to do and using collaboration to build your brand and your collaborator's brand.  The fifth pillar "People and Behaviours" is ensuring that collaborative behaviors are embedded into every nook and cranny of the business.
The foundation ston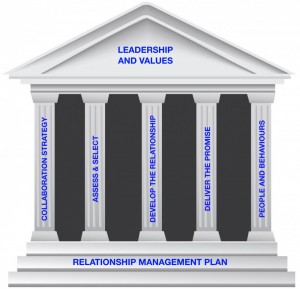 e is the relationship management plan.  David has a lovely expression "If it's not written down, then it's a rumour".
The cap stone is leadership and values.  Understanding core values is fundamental to all good marketing.  Where would we be without good leadership?  David has a great definition of leadership from the Centre for Creative Leadership.  "Leadership is about creating the conditions for others to succeed".  That could include your customers as well as your staff.  The better your customers do in a relationship – chances are that success will rub off on you too.
Please note that the "Five Pillars of Collaboration"

TM

 is the property of Flintlogue and the image used is for illustration purposes only.