Once action plans are in place the doing begins. Your day is probably already full of daily business tasks without adding any more. Sometimes you need someone to keep the plan on track. Sometimes you need a little more resources to make sure the plan is achieved.
Helping clients keep on track is a key service I provide.  Whether it's the formal Plan-Do-Review-Improve cycle every 3 months or a more frequent, hands on approach, depends on your needs.
I also act as an additional resource to help with the many and varied marketing activities.
If you need someone to find out why your customers value you, customer surveys may be the answer. Similarly, if you need to understand a little bit more about your competitors, competitor surveys may be an option.
If you need to understand more about your marketplace or expand your customer database then marketing research would be a good place to start.
Help managing your customer communication may be needed. You might be looking for someone to write the words….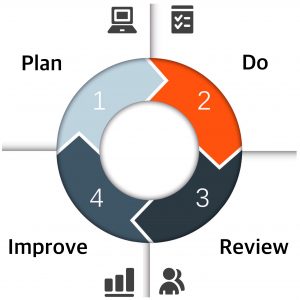 Good customers don't scream or kick or shout they just don't come back.
Unknown
Free Strategic Marketing Happy Hour
---
Have a no obligation, pressure free 1-2-1 meeting picking my brains. Learn how strategic marketing will help your business flourish. We'll discuss ideas and tactics for you to successfully plan your marketing. I'll bring along some tools and models including my own nine-piece marketing plan puzzle.
"In the 10 years we have been in business, I don't think I've spent such a useful hour on marketing than the one spent with Cynara. She focused my approach, gave me real activities to put in place immediately and gave me a deeper understanding of my customers. I can honestly say I'm excited about getting started and getting results."
Louise Crane, Overbyte Interactive
Take the mystery out of marketing and find out how to maximise your return on marketing investment.

Contact Cynara today for more information.
Subject to availability - 5 sessions available per month in Cheshire or North Wales.